导读:
2019年7月22日,科创板正式开板!首批25家科创板公司开市交易,这对中国的资本市场来说无疑具有里程碑式的意义。以下内容摘自榜样投资海外产品2019年第二季度季报。本文以数据事实驱动价值投资的角度,全面阐述了榜样投资如何看待科创板的各种制度创新。若您对我司产品或季报内容感兴趣,请联系榜样投资,联系方式详见文末,谢谢!
HALO is acronym for high altitude low opening in US military terms. In a typical HALO exercise, the parachutist will jump from the aircraft, free-fall for a period of time at terminal velocity, and open their parachute at a low altitude. This is exactly our feeling toward the first batch of 25 IPOs that debuted on the STAR Market with an average 140% rise. HALO is a highly orchestrated maneuver, if successful, can achieve highly valuable objectives.
The Shanghai Stock Exchange ("SSE") commenced trading of its Sci-Tech innovAtion boaRd ("STAR Market") on July 22, just eight months after President Xi Jinping first made the announcement. The new board promises to support innovation in China, by offering a dedicated platform for technology and research-driven companies to list and raise capital. This new board and the registration-based listing mechanism are designed to help growth-oriented technology companies with their capital raising, and hope to become China's version of NASDAQ. China has pledged to reform its capital markets and we view the SSE STAR Market as a pivotal testing ground.
The STAR Market has instituted a number of market-oriented reforms covering both trading rules, listing mechanisms and listing standards. Exhibit 1 illustrates a detailed list. STAR Market's trading rules are more flexible than A-shares'. The daily trading limit only kicks in after first five days of trading immediately post IPO. Thereafter, the limit-up/limit-down mechanism will resume, but loosens to +20%, twice the limit on other boards. However, T+1 trading settlement is kept the same. We see these changes as pilot trials to ensure feasibility and stability such that these rules can be relaxed further in the future and apply to other stock boards.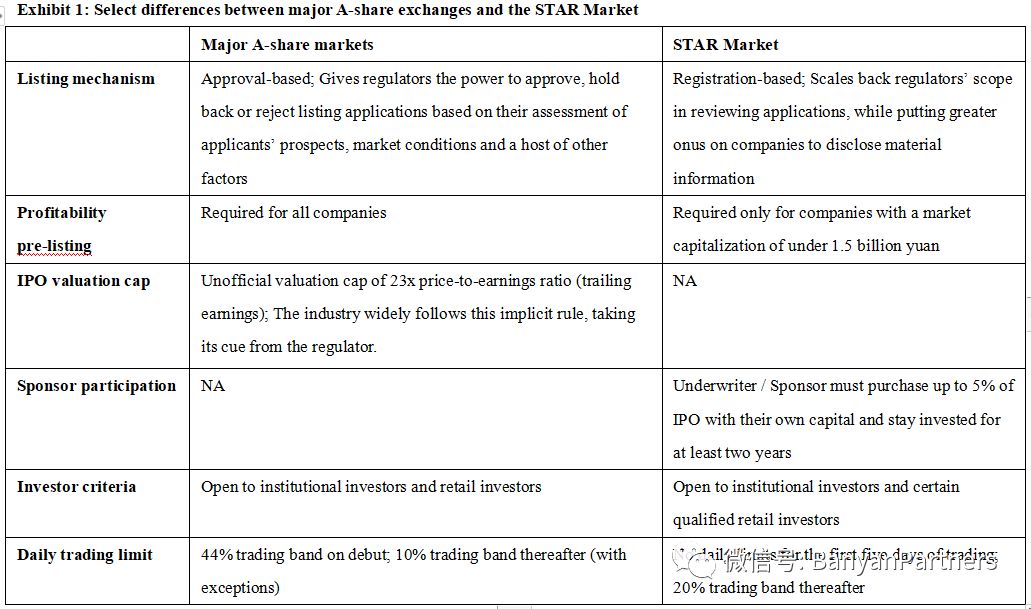 For listing mechanisms, the STAR Market introduced a registration-based IPO process, marking a radical shift from the existing approval-based mechanism where applicants need to go through a lengthy approval process by the China Securities Regulatory Commission ("CSRC"). Under the registration-based IPO mechanism, CSRC will no longer vet IPOs, instead, the Shanghai Stock Exchange will be responsible for reviewing the listing applications, delivering its review opinion to the CSRC to effect the registration process. In other words, looser rules are now being applied to fresh listings on STAR Market, in a controlled environment.
Still, STAR Market would mark several "firsts" in the country. It would waive the implicit IPO valuation cap and adopt market-based price setting mechanism. The share issuance price shall be determined by biddings from pre-qualified offline professional investors. Also, regulators will allow dual-class share structures and admit companies that have no revenue, in line with overseas markets that target technology startups. In the first batch of 25 companies to debut STAR Market, the most expensive stock at IPO price is Advanced Micro Fabrication (688012.SH), a manufacturer of semiconductor fabrication equipment, which is priced at 83x FY2019 estimated earnings. The cheapest is CRSC (688009.SH), a railway signal equipment manufacturer, which is priced at 15.8x FY2019 estimated earnings. Overall, these reform steps create a more inclusive listing rules with a much wider pricing flexibility.
For listing standards, STAR Market's new rules will allow some "pre-profit" companies to go public, who nonetheless must possess core technology. Specifically, the listing applicant must satisfy at least one of the 5 sets of standards as detailed in Exhibit 2. Among the five sets of listing standards, "profit" is required only in Standard I, a standard that's similarly used by Shenzhen Stock Exchange's ChiNext board. However, within the first batch, 20 out of 25 companies qualified via Standard I. For the rest 5 companies, one qualified via Standard III and 4 qualified via Standard IV, no one fits Standard II or Standard V. As of July 19, 2019, 149 companies' draft prospectus have been accepted by the SSE, and 128 enterprises used Standard I to quality for listing, accounting for 86%. Only 4 companies using Standard II, 2.68% of the 149 IPO candidates, can truly claim they are benefiting from the new listing rules of STAR Market.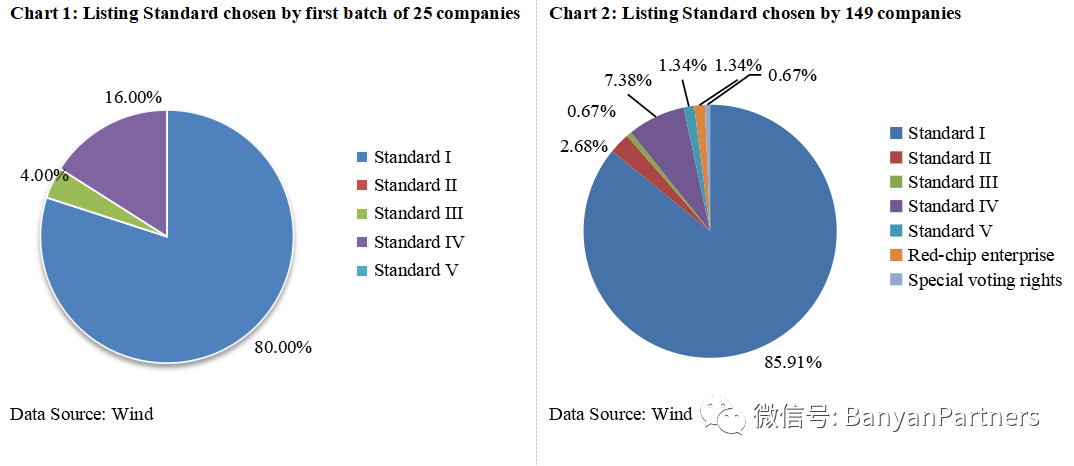 Another words, most of STAR Market IPO candidates can also list on ChiNext, STAR Market's older brother from Shenzhen. We, therefore, can conclude that the STAR Market is a venue for Shanghai Stock Exchange to compete with Shenzhen and catch up with the ChiNext board. ChiNext board has been the go-to venue for hi-tech companies in China over the past 10 years. ChiNext was created exactly 10 years ago in 2009 and has been referred to as China's NASDAQ, attracting growth-oriented firms to list. The ChiNext board has grown significantly over the past 10 years, and today it comprises 752 names with a total market cap of over RMB5,000 billion, representing nearly a quarter of the total capitalization of all Shenzhen stocks. Now, the STAR Market will certainly give Shanghai a level playing field in terms of hi-tech IPOs and a chance to catch up with Shenzhen.

Overall, the introduction of STAR Market is a big positive for the stock markets in China in general because of the new rules intended as prelude of wider reforms to come, not to mention the huge capital demand as evidenced by the aggregate trading volume on the first trading day (Exhibit 3). Investor appetite for STAR Market were energized and investor sentiment improved in general.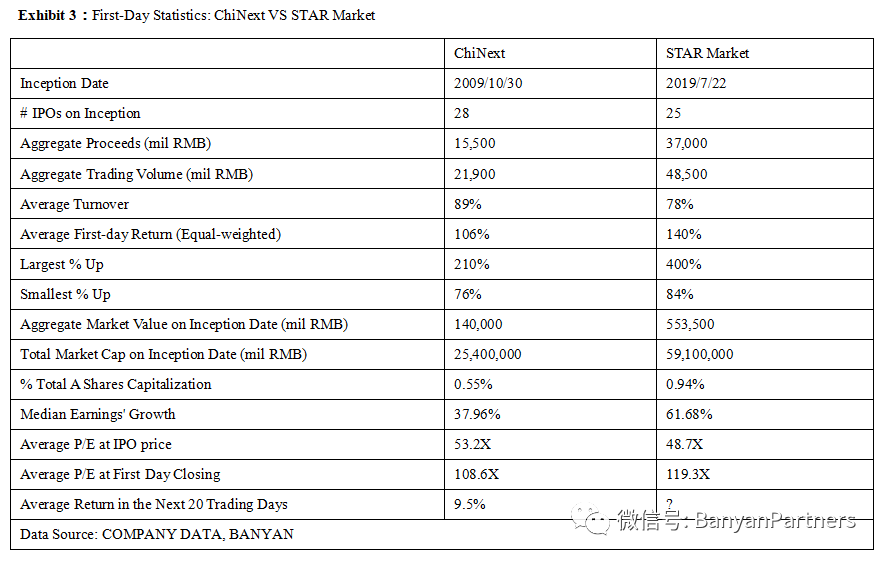 In our view, the STAR Market not only handles "input" with new rules, but also promises to handle "output", that is to aggressively follow delisting rules. In China, and similarly elsewhere, tech startups are far better at promising to deliver great things in the future than at generating real earnings. We believe delisting rules need to be methodically followed to make sure remaining listed companies are qualified and always refreshed and to make lasting positive effect on China's equity markets.
Identifying companies with true potential would require investors to have strong research skills specially for firms with short track records or early-stage innovation. Shares of such companies could also be more volatile and less liquid, which would affect portfolio construction. As fundamental investors in search of sustainable investment returns, we need to be concerned with the quality of companies as well as their valuations. Our job is to find good investments wherever they are listed.

After the first day of trading, STAR Market certainly delivered stellar performance, surpassing ChiNext's debut in almost every metric (Exhibit 3). HALO can sometimes be interpreted as high altitude low oxygen as well. With sky-high valuations for the first 25 IPOs, we certainly feel suffocation from a lack of oxygen from many aspects. Can these companies continue to deliver high growth? Will they exceed expectations next quarter? Where will we find new investors to take up these shares at this high level? We hope the parachute will open at more reasonable level and set the STAR Market on a more solid course and give HALO it's true meaning, high altitude low opening and safe landing.
声明
本微信公众号所发布的内容仅供参考,不构成任何投资建议,不涉及任何商业合作。版权归原作者或机构所有,若涉及版权问题,请通过微信后台与我们取得联系。